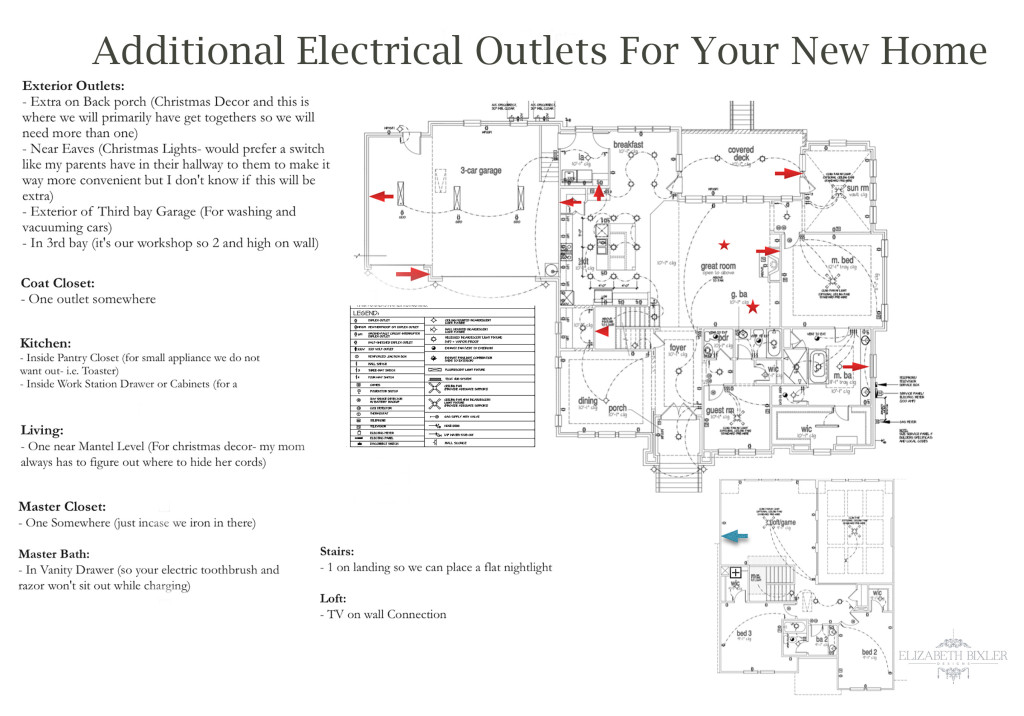 We are meeting with the electrician to do a walk through tomorrow and of course, I have some additional electrical outlets. I had to remember everything my parents and friends have complained about living in their home and came up with a list to discuss with our builder tomorrow.
This is our first floor plan as of now. The "Circle with two lines" Symbol is where the outlets already are. He did a really good job at figuring out where the beds and TVs will be set up.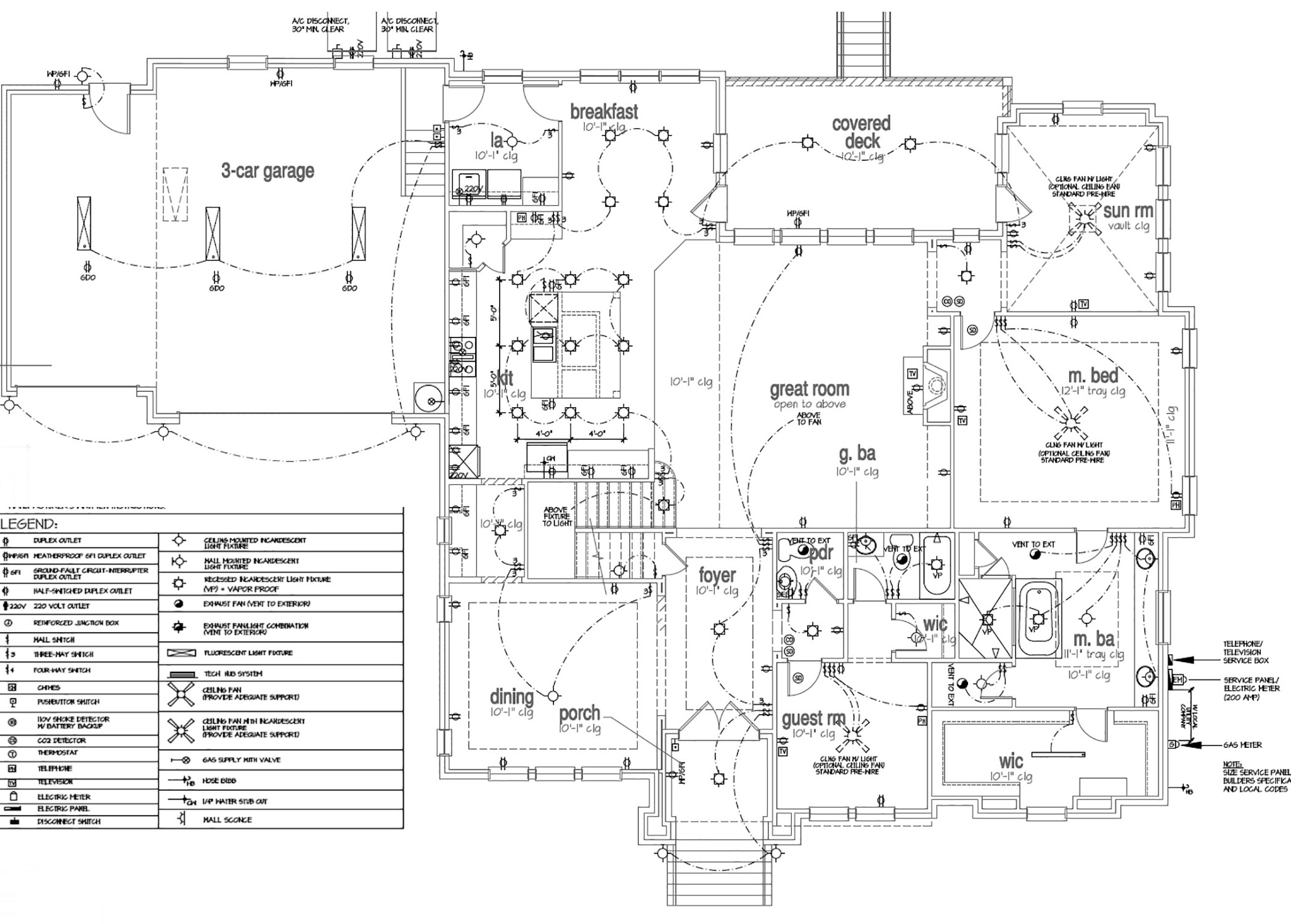 This is our floor plan with my addition notes. The circle with two lines across are where he is already adding the outlets. He also has the TV connections on here as well.  If you think of any more I should tell him, please share!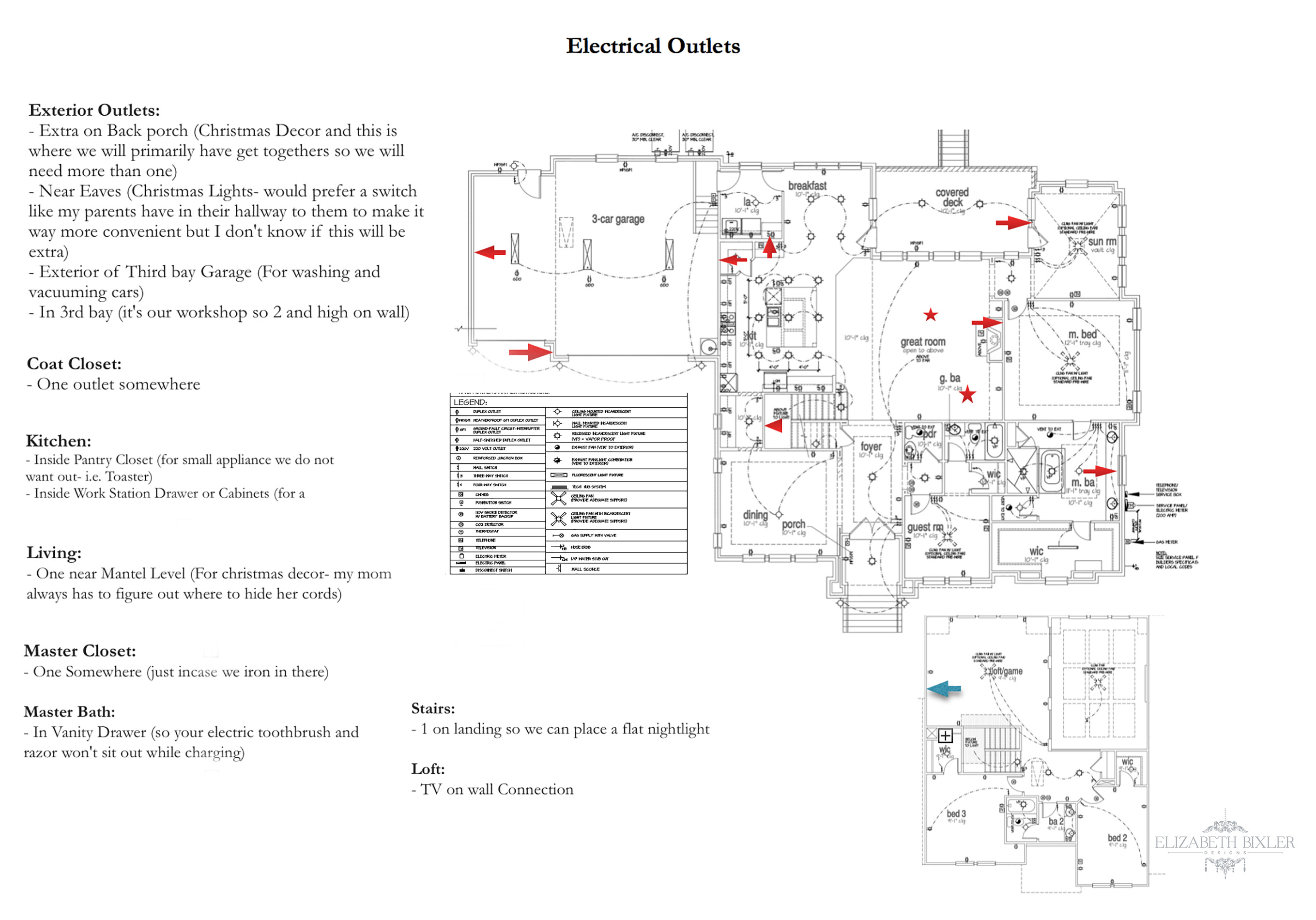 Exterior Outlets:
– Extra on Back porch (Christmas Decor and this is where we will primarily have get togethers so we will need more than one)
– Near Eaves (Christmas Lights- would prefer a switch like my parents have in their hallway to them to make it way more convenient but I don't know if this will be extra)
– Exterior of Third bay Garage (For washing and vacuuming cars)
– In 3rd bay (it's our workshop so we need more than one)
Coat Closet:
– One outlet somewhere
Kitchen:
– Inside Pantry Closet (for small appliance we do not want out- i.e. Toaster)
– Inside Work Station Drawer or Cabinets (for a charging station-you know I hate cords)
Living:
– One near Mantel Level (For christmas decor- my mom always has to figure out where to hide her cords)
– In Floor (2 for lamps – labeled on plan where)
Master Closet:
– One Somewhere (just incase we iron in there)
Master Bath:
– In Vanity Drawer (so your electric toothbrush and razor won't sit out while charging)
Loft:
– TV on wall Connection
Stairs:
At least one for landing strip (to add flat nightlight)