Picking out our bathroom and kitchen cabinet door styles …
was probably one of our easier projects. I can't say the same for the hardware part because I overthink was too much. Cabinets bring the room together while adding storage. You can change the feel of a room just by a simple door style. There are a few things you need to think about when choosing:
1. Know your style.
How do you want your room or home to feel? Would you like a more modern feel? go with cleaner lines and solid colors. Would you like a more craftsman? Go with clean lines as well but get a little crazy and add an extra recessed panel or perhaps bead  board to make it feel more like a lake front cottage. This website gives some excellent door styles. I decided to compile them to make it easier to see the difference.
some cabinet photography courtesy of Wood-Mode, Premier and Crestwood, Inc. and Maple Cabinet USA. 
Contemporary – Clean lines , flat panel with one molding overlay
Craftsman – simple lines , can have a brushed glaze or distressed look to give it a pop
Traditional Raised panel with multiple layers of molding (my personal favorite)
Tudor – Arches, columns , dark wood
French – Curves , scrolls , Highly decorative
Rustic- Curves mixed with weathered or distressed look , another favorite 
2. Know your colors.
While style is the most important, color makes a world of difference. At first we wanted an all white traditional kitchen. I got into a rustic kick but did not want to fully commit. I used a brushed grey glaze on a bright white cabinet to add a little something to out kitchen, and I love it! Here is a full list of out selections:
 3. Know your hardware.
Hardware took me about a month to pick out. No, I was not looking daily, but I was having a hard time picking from the selections I was given. I had difficulty finding a know that was brown with no coppers or reds. I also wanted very traditional hardware. No frills or anything too modern. Apparently, this was difficult to find so we had to research online.
4. Know your budget.
Do you want custom cabinets or would you rather save a bit and do-it-yourself?  If you are on a tight budget, it may not be a bad idea to DIY. Check out our DIY for our Ikea cabinets here.  You can also add molding to your previous cabinets. I found a pretty good tutorial on Providence Home Design . 
I know things look very neutral in our home selections. Don't get me wrong. I love color! As long as you have a neutral countertop or backsplash, have fun with your cabinets. Here are a few of my favorite kitchen cabinets of all time.
Love the color combination of this kitchen. Has such an airy vintage feel.
If the cabinet color didn't sell me, the Rohl sink definitely did it!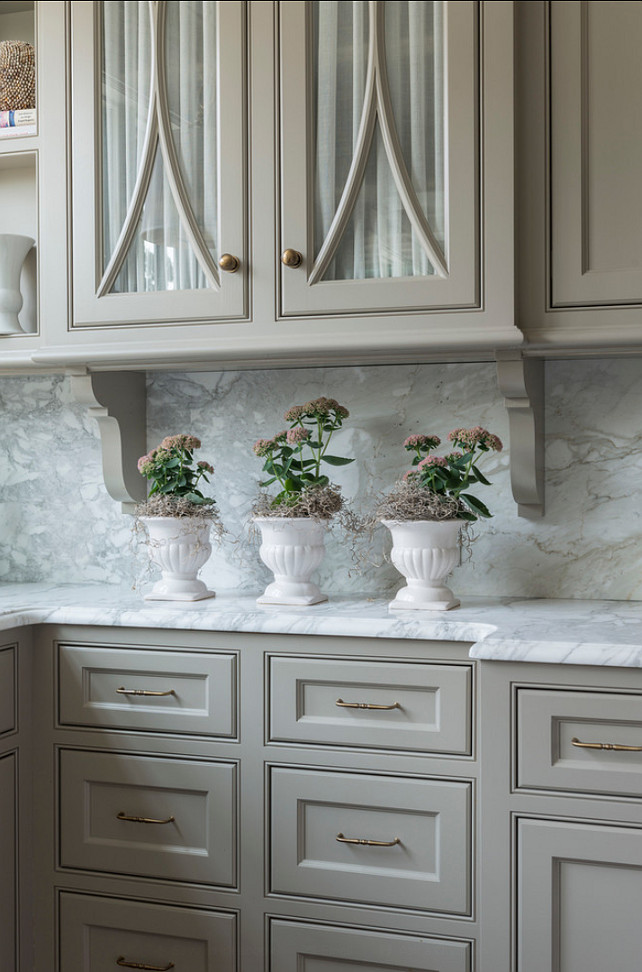 By far my favorite look! Love the backsplash, countertops, gold hardware… everything!
Do you have any tips for picking out the perfect cabinets? Please leave a comment below if you have any tips or would like to know the specs on my colors chosen.
For more information on my interior design services, please visit my website.