What a fun week it has been for decorating ! I managed to swipe  few awesome deals at Joss and Main while winning the #brightwhitewednesday Instagram contest. It was really an honor not only because the other posts were absolutely beautiful, but I was featured from my favorite Instagram designers. I never would have imagined they knew my name let alone liked my work! All the time I spent debating over countertops, mirrors, sink shapes, etc. was totally worth it. There is amazing talent on Instagram waiting to be discovered and these fabulous well-known designers help others.
Let's start with Decorgold..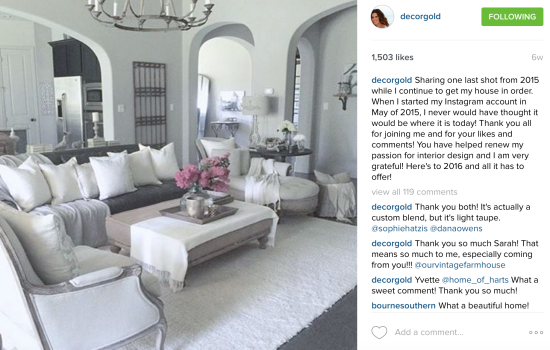 Her name is Jennifer, and to say she is an inspiration would be an understatement. Everything she does is flawless , and I am pretty sure she loves Restoration Hardware as much as I do! She plays a lot with textures and grey tones which is my personal favorite.
If you like that rustic clean feel, Olive and Ford is a really good choice to follow!
Her name is Kate and how cute is her design name?! I love that she can design on a budget, and she does it with perfection.  I am pretty sure if I were to have another wedding, I would beg to hire her.
The most famous designer has to be Randi Garrett Design because who wouldn't love her?!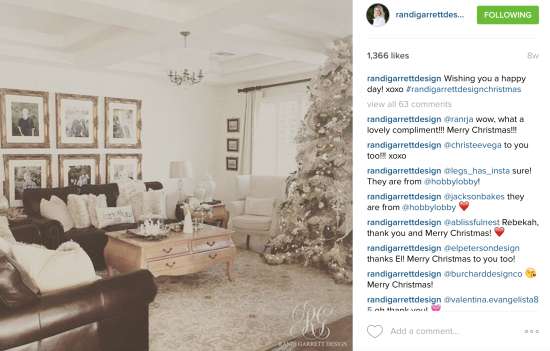 Her posts are so sweet and supportive of others. Her lighting is also gorgeous. I love her photograph angles. It was really hard to choose which photo I loved the most, and I am pretty sure she was the inspiration behind the bed we chose. She also has a beautiful blog where you can shop for custom fabric. Her website is very clean and easy to navigate which is perfect for the woman looking for quick inspiration. Check out her "Home Tour". Breathtaking!
If you love bright and glamorous, follow Kelley Nan!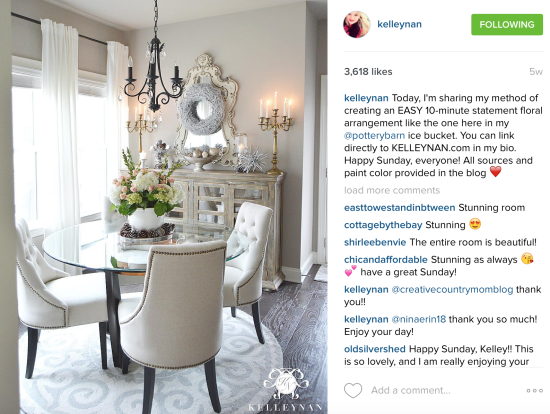 She has a very helpful and beautiful blog. I don't know who is teaching all these fabulous women photography, but I really need to get on their train. I love her open space and use of many mirrors. She has a beautiful eye for sparkle while keeping it classy. Ps. These chairs are on my list of things to get for our breakfast nook. I LOVE them.
I don't know if I love ZDesign at Home's Blog or Instagram feed more.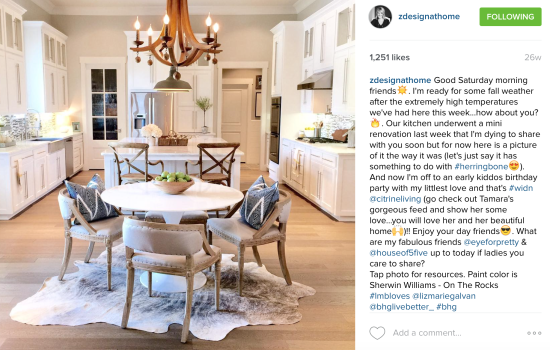 She is a huge supporter of other designers, and her style is adaptable. I love that she can make modern, rustic, nautical, glam, etc. style beautiful. She has accomplished more than I could ever dream of and is definitely an inspiration!
If you have a wolf stove, I probably am already crushing on you. If you have a wolf stove with a fabulous kitchen like The House of Silver Lining, I have to follow you!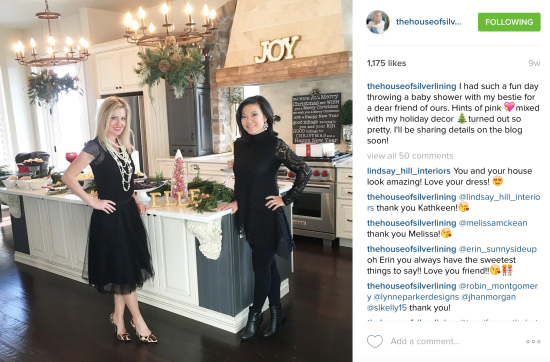 Her blog showcases her excellent DIY skills and beautiful designs! She also has a Yorkie that is too cute for words.
If you love detail, follow Katie Blythe .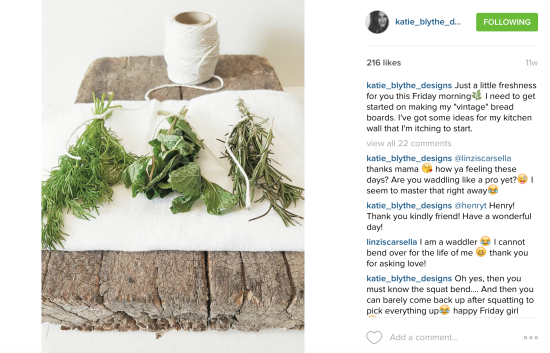 Her photos are amazing! Everything feels so clean and fresh. She has a great style that is consistently on point.
Last but not least is LoiThai .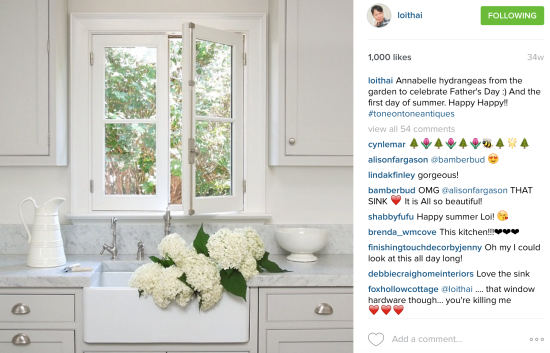 His style is clean, livable, and featured in Martha Stewart! Not many designers get to say that everyday. His blog and Instagram feature all his beautiful work. I can't get over his minimal design that makes a clear statement.
There you have a list of a few of my favorite Instagram feeds. What are some of yours I should try?
Thanks for checking them out!