Before we go into the weathered gray coffee table stain, let me talk about the real issue at hand. This week has been all home talk so I decided to have complete ADD and look at purses online. I really want something I can carry everything in and does not weigh a ton. I also want it to have closure and compartments. I am thinking that maybe too much to ask with my budget. I love the Saint Laurent Shopper for the price and look, but it does not serve too much of a purpose to me. I can just keep using my Longchamp for the same purpose. Don't get me wrong I am all for this leather shopping tote, but for the price, I need something with a little more to offer.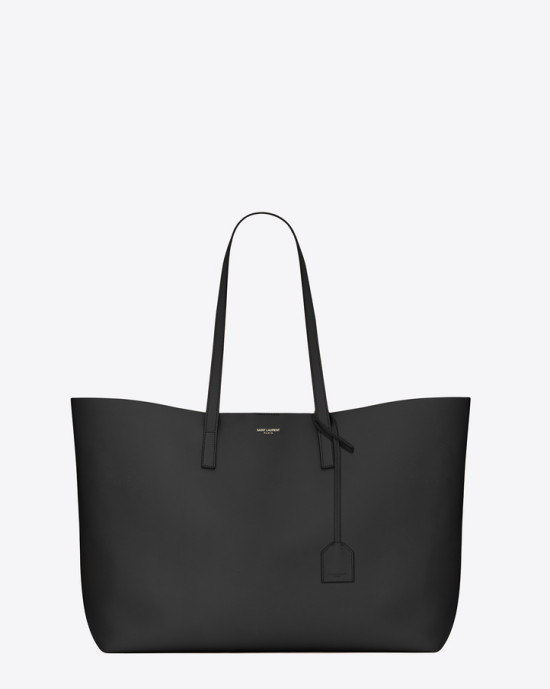 I narrowed it down to the Saint Laurent Sac de Jour Satchel and the Prada Medium Saffiano Medium Double Bag. Which would you go choose?
What? You did not just think I was indecisive about paint colors did you?
I guess now I should start talking about my coffee table. Our awesome neighbors gave us a wonderful coffee table that we used right away. The only problem was the color did not go with a lot of our decor. We plan to put this in the sunroom when we have an idea of where we want everything, but until then, it's home is our living room. I apologize for the lack of pictures during the process. After I finished a few coats, my husband asked why I was not taking pictures to make this into a blog post. Whoops!
Items Needed:
Purdy Corporation 024410 1 1-Inch China Bristle Angle Paint Brush
Wet Paper towels (for wiping down dust)
Mixing pan
Drop Cloth
60 grit sanding paper (if taking off old stain) with a hand rotary sander
The coffee table was a warm dark brown with heavy glaze. Landon sanded everything with a using 60 grit and hand rotary sander.  I wiped it down and mixed 3/4 Minwax 22761 Wood Finish Wood Stain Classic Gray (same color I used on the floors) with 1/4 Sherwin Williams Stain in Chestnut. This picture is after sanding and starting the stain process.
Here is my little helper: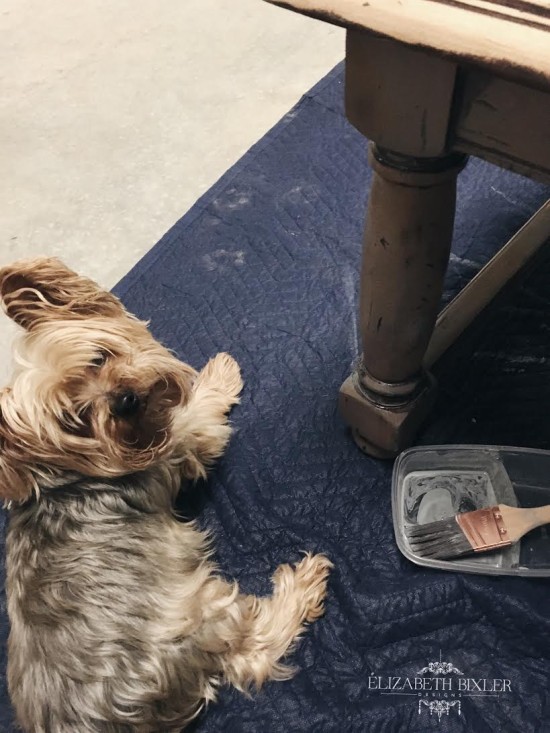 You can see the before stain color in the seams. A lot of traditional furniture has that dark brown stain which I love! Not sanding the seams and edges "distresses" the furniture for me. I applied the stain mix using a paint brush and went a little heavy around the curves. I waited the night. I applied just the chestnut with a paint brush the next day and waited 12 hours. I touched up areas with the Classic Gray and used my favorite matte finish . Voila'!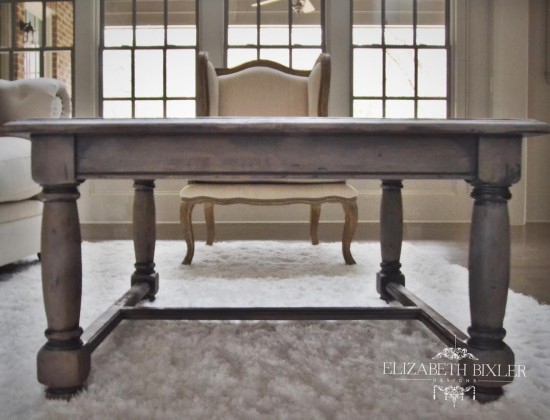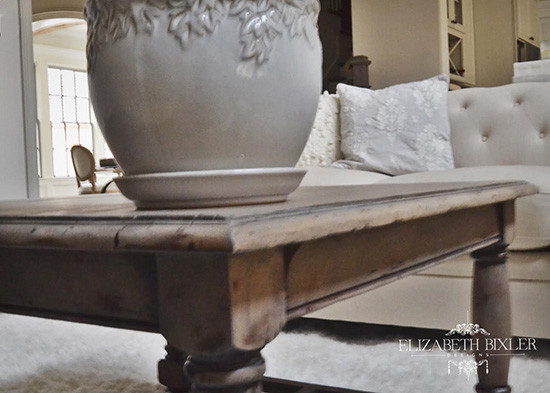 ELIZABETH'S PICKS