Happy Tuesday Everyone! This past month has been crazy busy. My husband and I were able to see our new nephew – who is adorable and I don't say that about every baby and Landon surprised me with a Malibu trip. I LOVE traveling anywhere, but Malibu, California is one of my favorites. I am not a "resort" person because I feel trapped. He knows I need constant entertainment so he booked a few of my favorite restaurants, found a few places to go, and got a room on PCH . It was breathtaking! We love the mix of mountains, city, and water, and naturally, we did not want to go home.   I mean .. would you want to leave this backyard?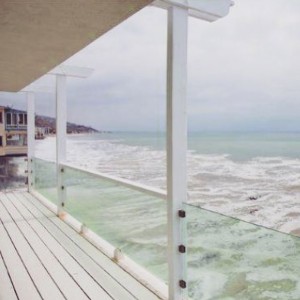 We made a pact to not do any house talk on this trip, and that was pretty easy. With all the rain and decisions we were having to make, I was pretty exhausted from researching. So far, we have our : structural plan, faucets, cabinet style and colors, most of our lighting, and exterior paint color picked. Here are a few pics of how our house is coming along:
It feels like it has rained almost everyday in Georgia which has really put a hold on our home, but it gives me more time to research products. I hate feeling rushed to make decisions when I do not have all the information. Home building feels like that – a long pause, than mad rush.. kind of like planning a wedding. You feel like you have all the time in the world some days then they call you for an emergency meeting to make decisions on products you know nothing about. This is why I research and make decisions far in advance. This also leads me to change my mind a million times, but to me, it is worth it since I have to look at our choices for many years to come.
My hardest decision so far has been on tile choice.  The exterior colors were actually the hardest visually, but the tile selections took the most research and time. Maybe I started all wrong. We did not use a design gallery or even someone telling us where to look besides Home Depot so I looked on Pinterest and Houzz first for ideas. This led me to a number of questions : Do I want to stick with my Tudor theme in the bathrooms too? Do I want a more classic or rustic feel? Is this functional? What size should they be? Should the size on the walls be the same as floor? What grout color compliments this tile? What pattern should it lay?   Should all the bathrooms have the same base with different color accents? Will the bathroom floor tiles compliment the hardwood in the halls ? I don't even know the color of the hardwood in the halls. What color should I pick for the hardwoods?
Yes, the questions were endless and probably ridiculous. I picked a classic look first – 12×24 with a 1/16″ grout line Carrara and Calcutta marble floor and walls in every bathroom. I should have asked myself how expensive this will be. We actually still do not know our installed price, but I am guessing we can not afford it. I also should have actually researched more than looks. If I did, I would have quickly realized that marble is a pain. My husband (Mr. Logical) was dead set on porcelain or ceramic, but I did not like the way most of the ones I have seen looked. It reminded me of a faux Chanel. You may not know it isn't really marble but I do and that matters to me more. Keep in mind, we had only been to Home Depot and looked online at that point. My mind was completely blown when we randomly went into Floor and Decor.We found a Calcutta and Carrara porcelain really similar to the marble I selected here for $2.69 sq ft instead of $24.45  sq ft .
Incase you wanted to get a sense of my dream master bathroom:
I would change a few things like the mirrors because I do not think Landon would feel super masculine looking at this everyday, but all in all, I love it!
So now I move on to something I like to call "functional tile" . I get upset just thinking about the need to have functional tile because I often love design that is not ideal for a clumsy, busy family.  After researching various materials of tile for the look we wanted, I narrowed it down to weighing the pros and cons of : Ceramic, Porcelain, Travertine, and Marble. Please keep in mind there are several other materials of tile, and these were the ones that fit our style.
My "basics" of each material in chart format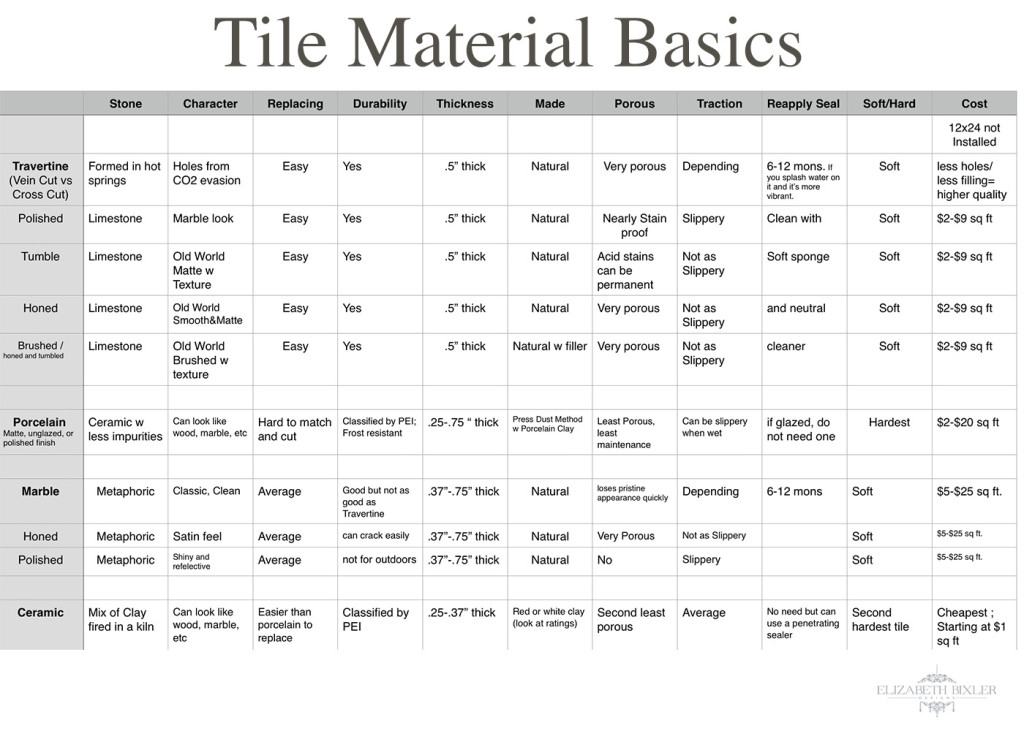 For tons of great info on porcelain and tile info please go to this builder's site.. It is so detailed!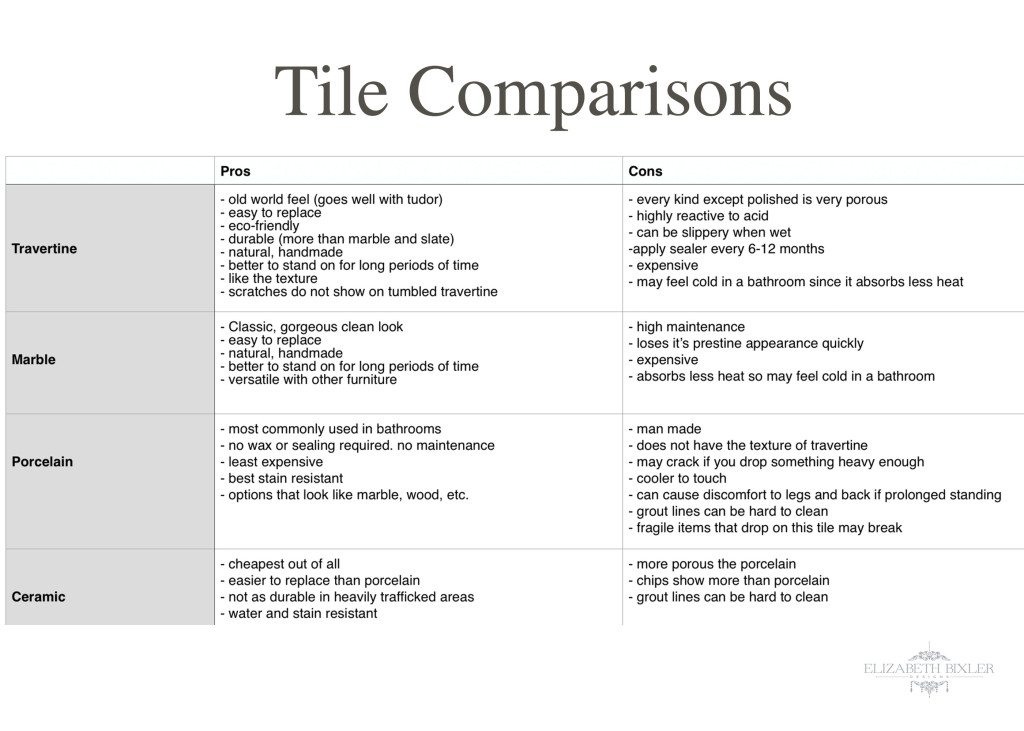 Still lost? Me too. I can not get over marble but porcelain is really growing on me mainly for the low maintenance and price point. I also love the look of travertine too. After researching, I think I would rather spring for porcelain than have ceramic so let's just cross that one off the list. For a good list of patterns for your tile click here.
Room by Room Tile for Our Home 
Laundry room- Brushed and Chiseled Travertine 
Size and Pattern – 8×16 90 Degree Herringbone
Why? Our laundry room will be the first place we walk when we come from the garage. I love the old world feel which matches perfectly with our home. I also love that it is the easiest to replace because who knows what we will be dropping in there. Another bonus is the tumbled travertine does not show scratches since who knows what we will be dragging through there either.Tip: If you want to do herringbone patterns, it is a good idea to know what free you would like them at. If you want the space to look larger, go 90 degree. Also, make sure it is chevron angles are running with the flow of the house instead of across.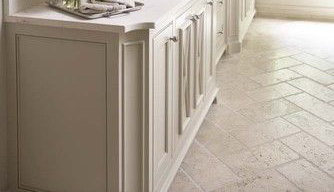 Master Bathroom Floor – Carrara Porcelain Matte Tile
Size and Pattern – 24×24 Running
Why? Marble is too high maintenance compared to porcelain. We were still a little nervous of slipping on the polished porcelain so we ordered a few samples to compare. Also make sure that the tile has a very low water absorption rate (less than .5) . Also being "through-body" tile will benefit you if you worry about slipping.
Master Bathroom Wall- Carrara Porcelain Polished
Size and Pattern-  8×16 Running with trim above tub tile
Why? I love running tiles on walls and this compliments our floors nicely. I picked polish for less maintenance. I also LOVE  this trim for the tub wall (pictured).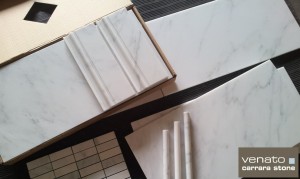 Trim for tub wall photo credit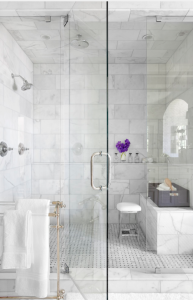 Love that this shower wall goes past the ceiling too!
Master Bathroom Shower Floor – Classic Calcutta Porcelain Tile
Size and Pattern – 3×6 degree Herringbone (click here for herringbone patterns)
Why? Because who doesn't love herringbone? I chose porcelain for this because let's be honest, I dye my hair.. and a lot. Last thing I want is to forget to wash it our in the tub and have stains everywhere. I need a material that is non-porous.
Downstairs Guest Bathroom Floor – Porcelain Tile
Size and Pattern- 8×16
Why? This is a small rectangle bathroom so I chose a herringbone pattern to give it some shape. Also, placing the tiles diagonally makes the room look bigger. I also chose a bigger tile for less maintenance with cleaning. Remember, the less grout, the less cleaning and less boxy.
Downstairs Guest Bathroom Tub Wall – Same material as floor
Size- 12×24
Why? I like consistency in bathrooms meaning I like the floor and wall material to match. It makes the space look bigger with less breaks in the lines. This doesn't necessarily mean I like the size and pattern to match.
Upstairs Guest Bathroom Floor- Porcelain 
Size- 4×12 Herringbone or 3×12 Herringbone
Why? Our hardwood floor planks are 4″ so I like keeping around the same size for the tile.
Upstairs Guest Bathroom Wall-
Size-12×24 Running
Why? bigger tile = less cleaning
Kitchen Backsplash- Sahara Carrera Marble
Size- 3×6 Running
Why? You want something stain resistant here. It hurts me to say it because my husband and I love the faux brick matte backsplashes but realize the maintenance on it would not be fun.  I'm having trouble with the size.. What size do you like best?