There has been a lot of researching going on at the Bixler household recently, and I have found way more information than I ever wanted to know about tile, countertop, brick, etcetera, etcetera.  Styles come and go and just as popular are granite was, the era has passed. Quartzite , quartz, and solid materials are all very popular now. People are leaning towards natural materials . I am still in love with marble , but the problems are the cost and maintenance. Therefore, I started looking into other marble countertop alternatives.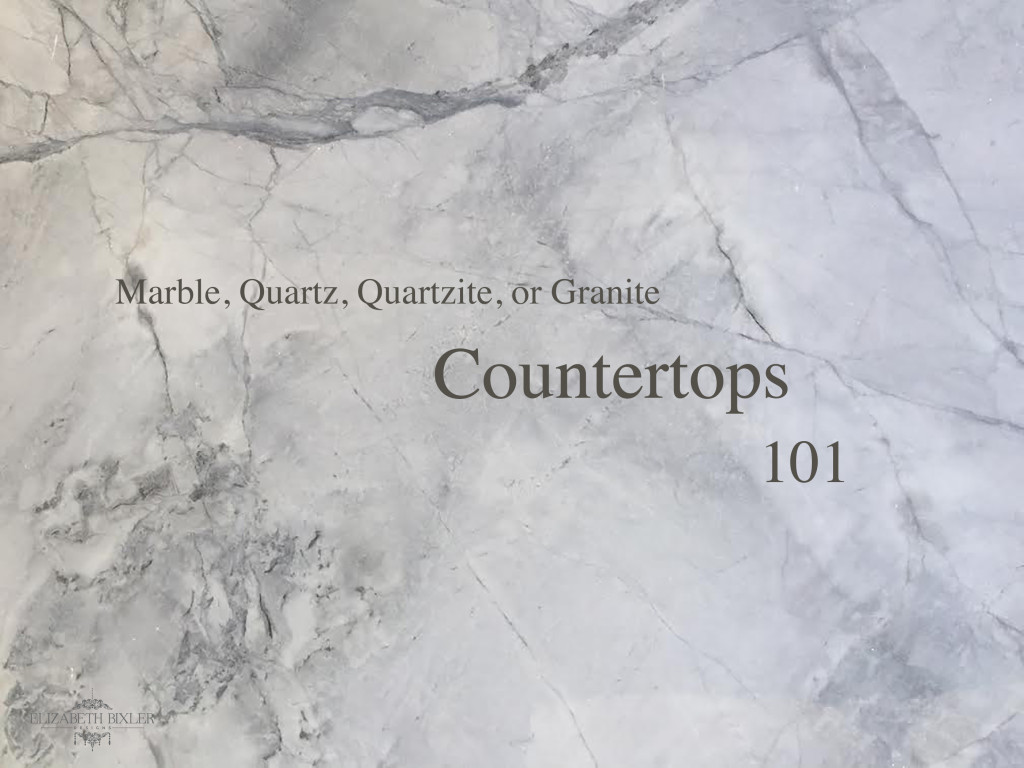 On Wednesday, we went to a granite facility which was pretty cool .. thanks Dan at Toro Granite for taking the opportunity to meet with us:

We also went to see our home progress:
I also did quite a bit of research before I went so I knew what questions to ask. At first, we were going to have all quartz countertops, but this became too high for our budget so we settled on it just being in the kitchen, master bath, and butler's pantry. There are approximately 12 materials to choose from when picking out countertops: quartz, granite (honed or polished), laminate,wood,marble(honed or polished), stainless steel, glass, recycled,concrete,soapstone, travertine (polished , tumbled, or honed), and tile.  If I am missing any, please leave a comment below.
We wanted something with light colors and love the look of marble. but did not like the maintenance factor.  For an great chart on the comparison of these countertops check out this pic below or go to think link.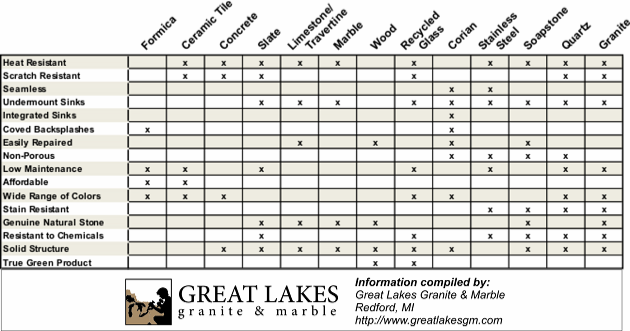 Most Porous > Least Porous – Marble-> Quartzite -> Granite->Quartz  (Most stain resistant)
As you can see the negatives of having marble far out way the positives. if you are looking from just a cost standpoint, depending on what you get, marble can cost the most. For a complete breakdown of pricing, I found this website helpful: Countertop Guides.  To sum it up from highest to lowest  (all depending on grade and they really overlap each other) : Quartzite -> Quartz -> Marble -> Granite
.. again, all depending on grade.
Quartz that looks like Carrara Marble[su_divider top="no" text="go to top" style="double" divider_color="#3699a3″ link_color="#40adb2″]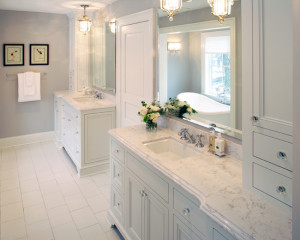 Cambria Torquay (Photo Credit: houzz)
Quartz wins hands down for us in terms of the look we are going for (marbleized) , lowest maintenance (granite needs to be resealed), nonporous, cost, and even heavier than granite. A major con is the price difference and UV exposure discoloration over time.  Granite is beautiful and natural but seems a little dated and harder to find in the look we like.
Since we decided on quartz for the kitchen, we had to start researching brands. From reviews, we found Cambria , Silestone, Zodiaq, Ceasarstone, Hanstone, and Viatera to be pretty awesome. We like Calacutta Marble the best so it took a few tries to find a quartz and granite substitute. We went with LG Minuet to compliment our cabinets:
Photo credit for Kitchen Colors
Quartzite that looks like Marble [su_divider top="no" text="go to top" style="double" divider_color="#3699a3″ link_color="#40adb2″]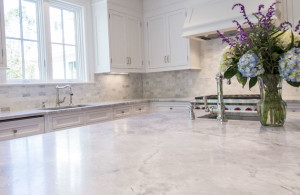 What is quartzite and how is is different from regular quartz? Well, unlike engineered quartz, quartzite is a natural material. This does make it more porous than quartz but not as porous as marble.  Quartzite is also harder than quartz. It also requires being re-sealed. Both are prone to scratching if a cutting board is not used.
Granite that looks like Carrara Marble [su_divider top="no" text="go to top" style="double" divider_color="#3699a3″ link_color="#40adb2″]
Because we really aren't picky when it comes to our guest bathrooms and cost purposes, we decided to go with granite. This is where it gets tricky because we have yet to really see a piece of granite that both of us can agree on. Neither one of  us like the speckles or splotchiness in granite. So maybe we are a little picky. We started at Home Depot to get an idea of how they price it (there is in "Groups" or "Grades"). Grade A is the lowest and Grade D is the highest price. The prices are a mystery. We only know our builder told us to pick from Grade B or lower.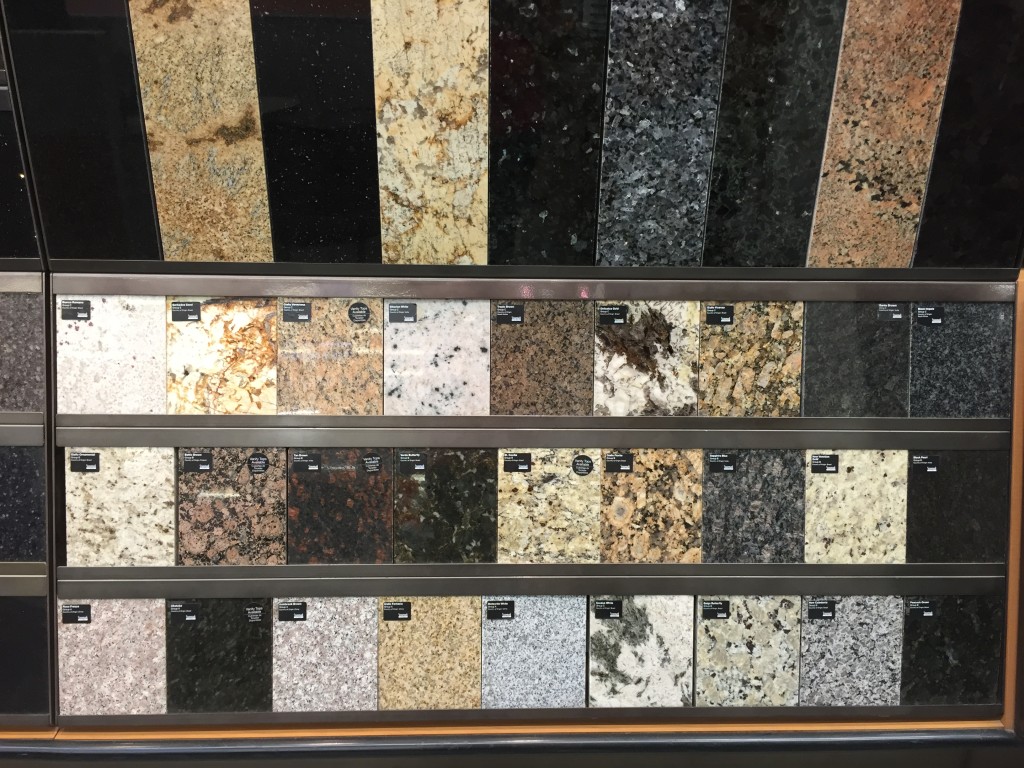 As you can see, the closest to Carrara Marble is the Bianco Romano (Group C) and Siberian White Granite (Group C). Here is what they each may look like as a countertop:
Bianco Romano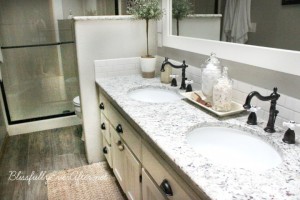 Siberian White Granite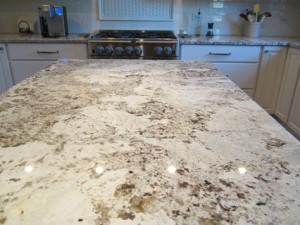 Side Note:  I have to say I was pretty excited about finding this website. I love being to at least get an idea looks good together so I am more comfortable with my decisions.
We could not get over the splotchiness of the granite- even in the level 4 – and decided instead of spending more, we looked at scraps of quartz, marble, and quartzite. They offered us 25% off of original and here is what we chose
Master Bathroom – LG Minuet Quartz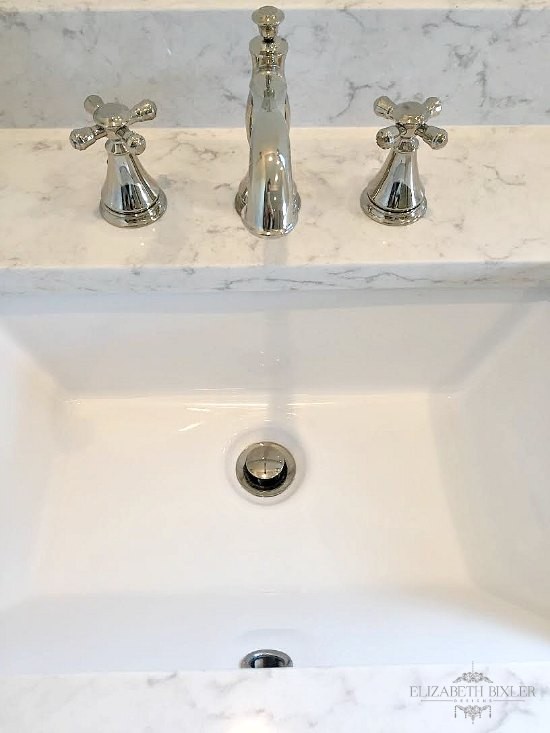 Our Minuet Quartz Countertop
Laundry Room – Super White Quarzite
Why? It has a lot of grey which we love!
Downstairs Guest Bathroom – HanStone Aspen Quartz
Why? We like the creamy tones for the downstairs guest bathroom. It will go really well with our brown glazed cabinets.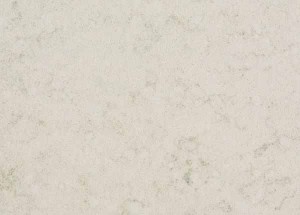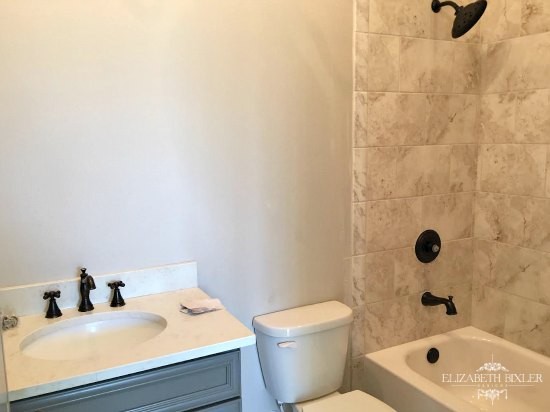 Upstairs Guest Bathroom- LG Rococo Quartz
Why?  We had to find a scrap that was big enough for the upstairs bathroom and they unfortunately did not have any quartz or quartzite in this size. We found this piece of granite that reminded me of a snow tiger so of course I loved it:
But.. it didn't really go with the floor tile I wanted and wasn't really flexible on changing our floor tile. So we decided to go with the LG Rococo.
So which do you pick first? Floor tile or countertops?
I would really look at the big picture first. Look at colors you like in the bathroom and theme. Do you want it to feel classic, modern, spa, french country, etc?
See what looks you like, see if it is practical, then choose you countertops first. Countertops that you may like are a bit more limited than tile. ASK for SAMPLES!!! This was so important for us because we like our look to remain consistent. Of course, you may not like matching, but it is always a good idea to take samples to get an idea of what they will look and feel like in real life.
I like to look at colors in the countertops and match those in the cabinets and floors. Another good reason to ask for samples.