Hello Everyone! It has been a very long time away. Since my last post, I had a little baby girl named Harper. I never really thought I would be a mother, and a little over a year ago, my husband and I decided that two dogs were not enough.The amount a pure joy that I felt when we found out we were having a little girl was too much! I could not wait to start her nursery! I found this beautiful watercolor blush pink floral  Jolie flower wallpaper for her all white nursery from Anewall. The designer of this gorgeous wallpaper is Monika Hibbs.
Here are a few examples of it in other rooms: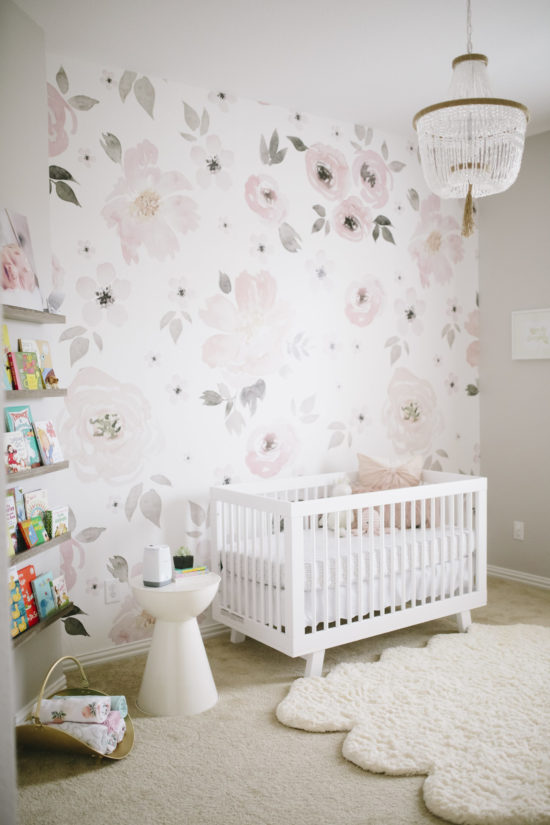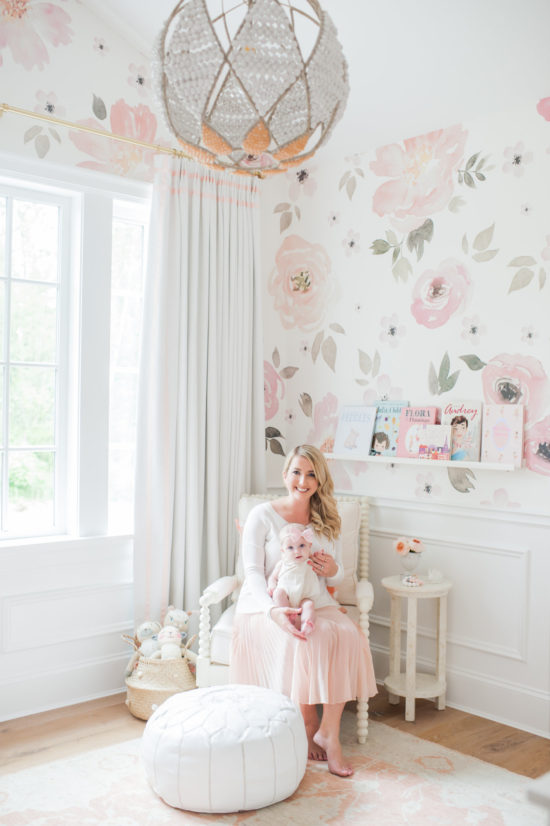 The Jolie wallpaper is so beautiful even though it was a bit of a pain to get the lines to match up, and honestly, we messed up on parts of it. Luckily, I love these Restoration Hardware Nursery Rhyme Silhouette Art .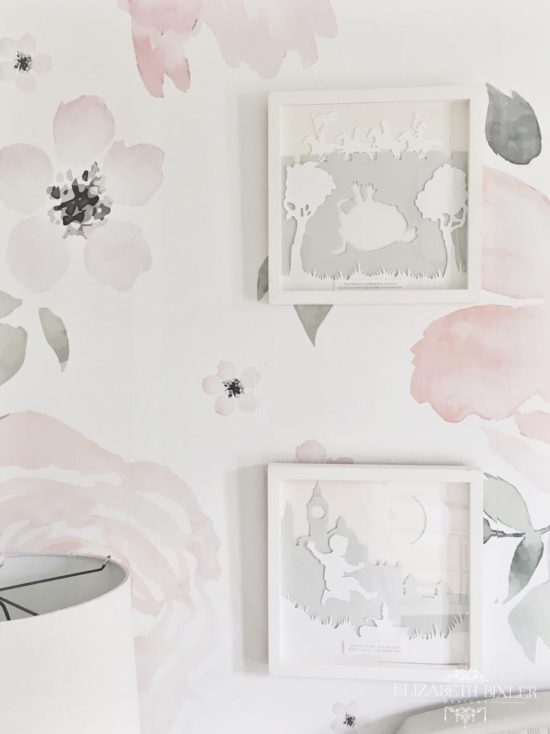 It's like the mistakes never happened.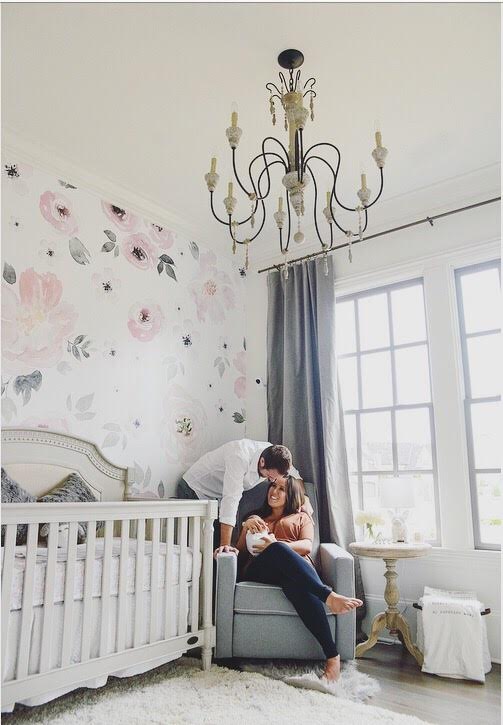 This was taken by Katie Snyder two weeks after having little Harper.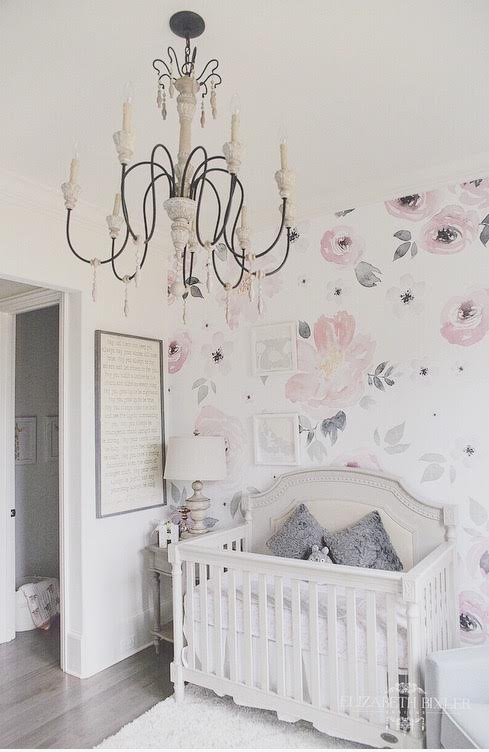 I love how light and airy her room feels. She even smiles every time she looks at it!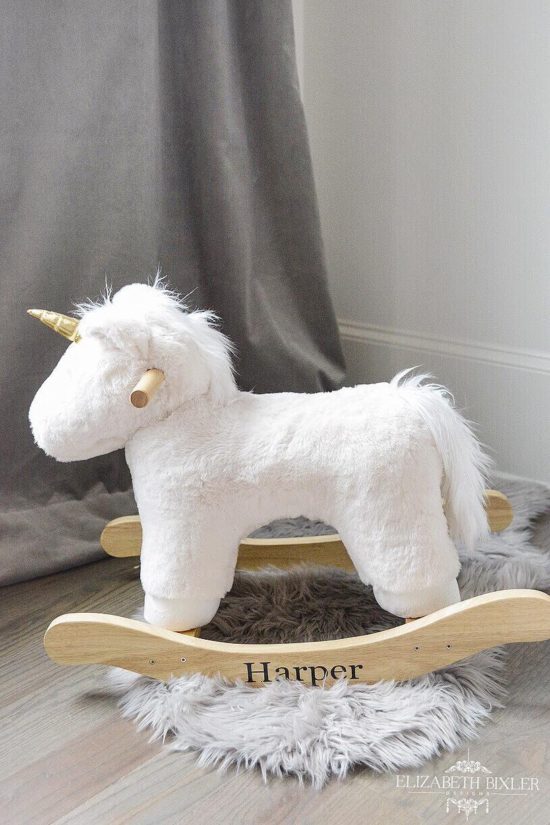 One of my favorite toys is this unicorn rocker from Pottery Barn Kids. My mom had Harper's name on it. It is so white and soft!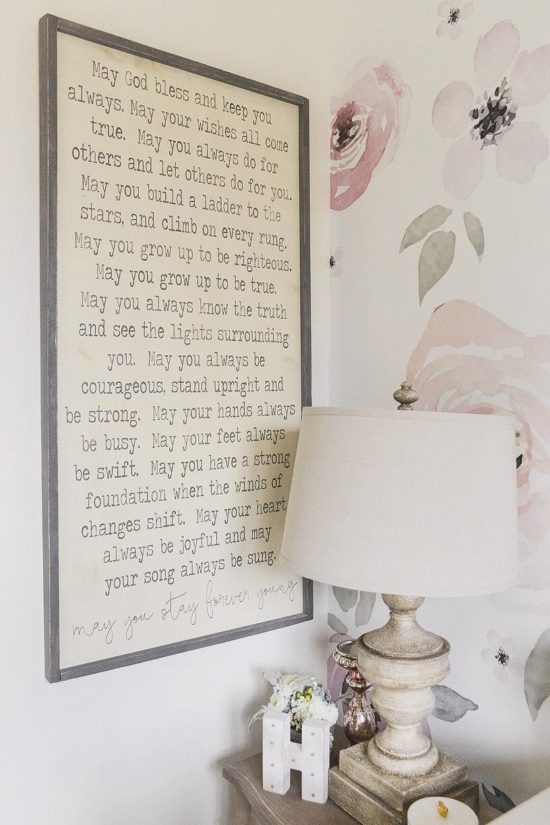 I could not decide what to do with this wall until I found the perfect song lyrics from Kspeddler on Etsy.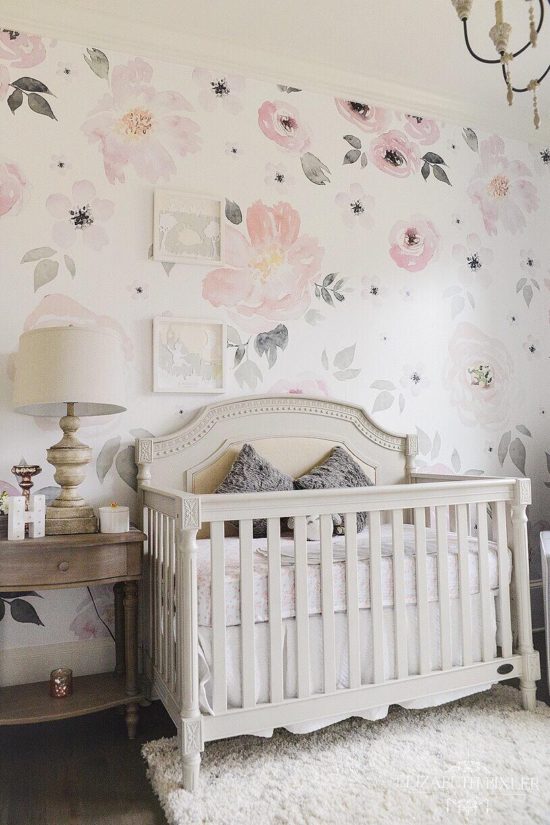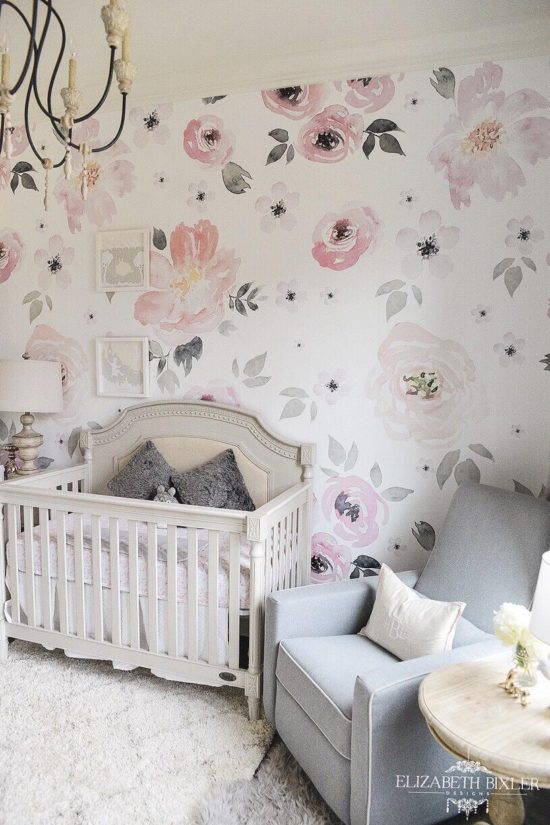 I am so in love with this rocker/glider/ recliner! It is so pretty yet functional, and I thought they did not make pretty recliners. I am so glad I was wrong.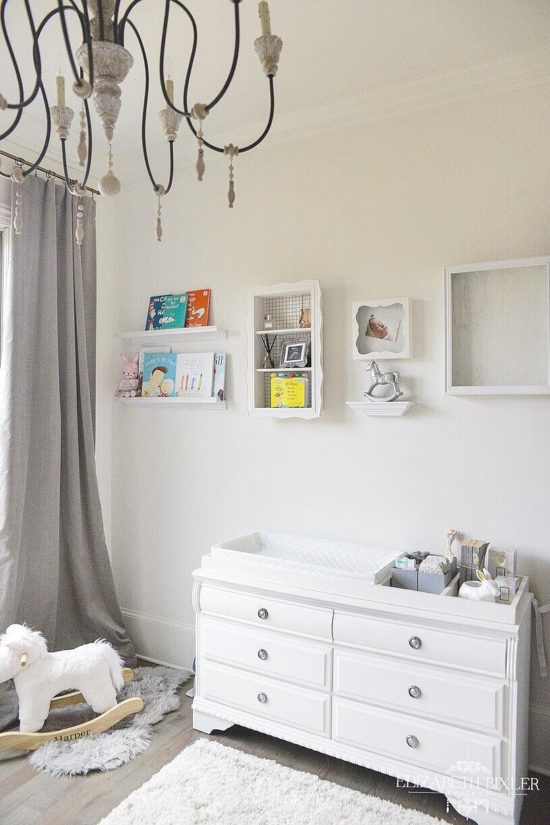 I have used this changing table three times maybe. I have yet to cut the apron strings and make Harper sleep in her room at night except twice. I stared at the monitor the whole time. The blank shadow box is for our favorite outfit of hers. Since she can still wear it, we are waiting to fill the box.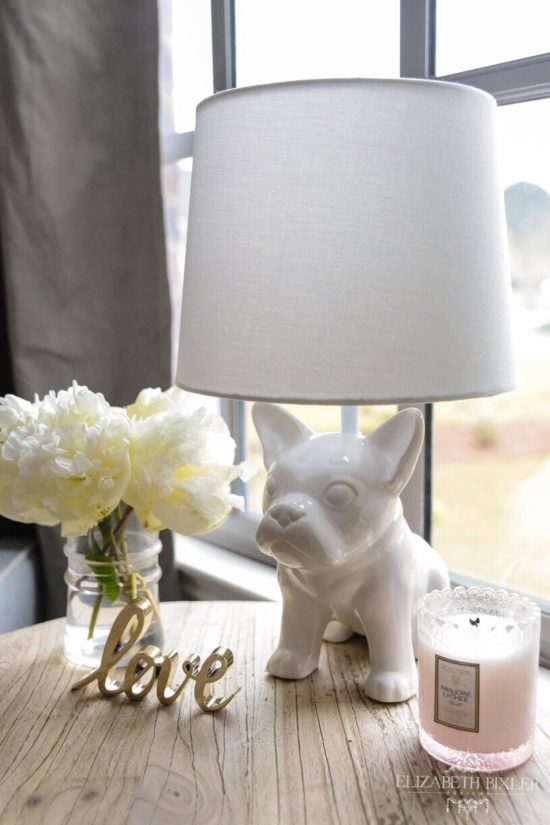 The lamp was a little joke for my husband who has wanted a french bulldog since I have known him. Don't you love our new pet from Target ?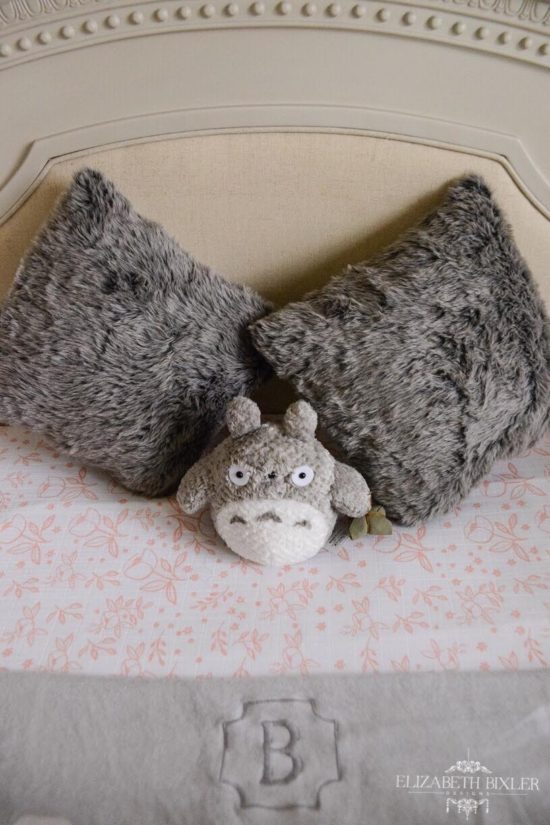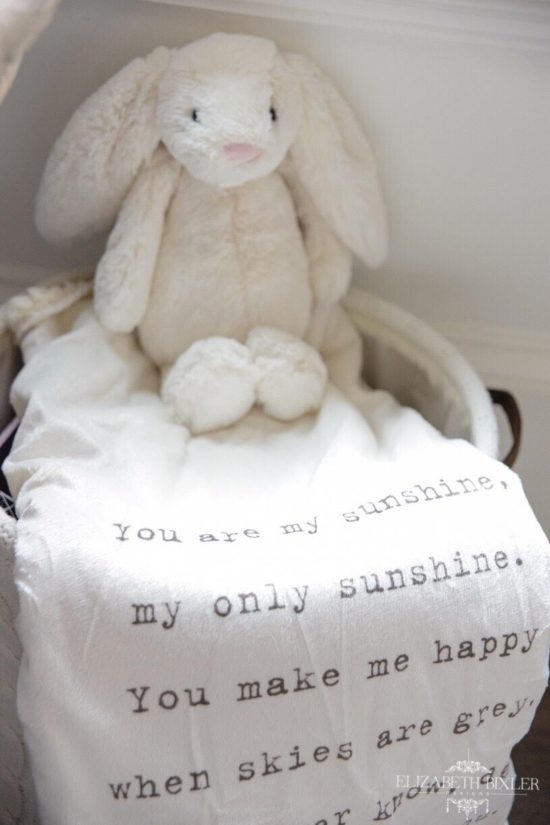 I love this blanket from Sugarboo ! I sing " You are my Sunshine" daily, and I had never heard of Jellycat stuffed animals. I do not think I'll be able to go back to normal ones now.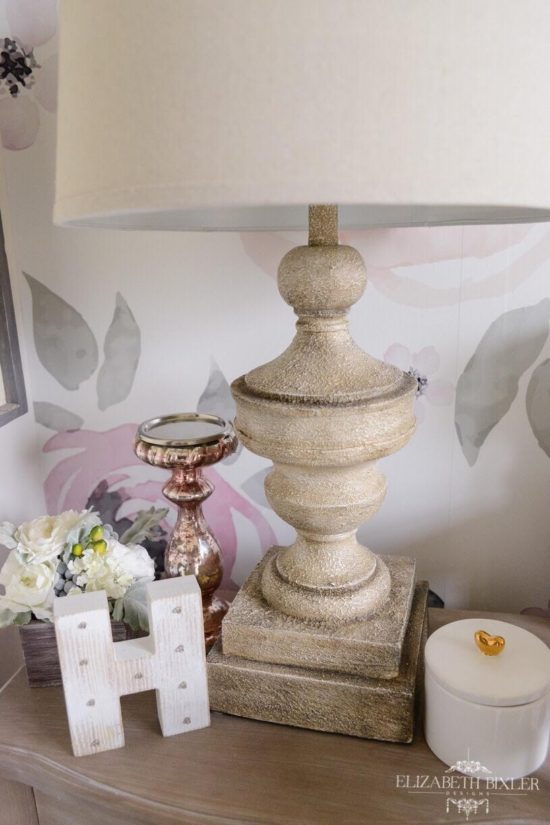 This decor serves a purpose so when I saw this little canister at Target for $3, I had to buy it. They are perfect for storing her pacifiers.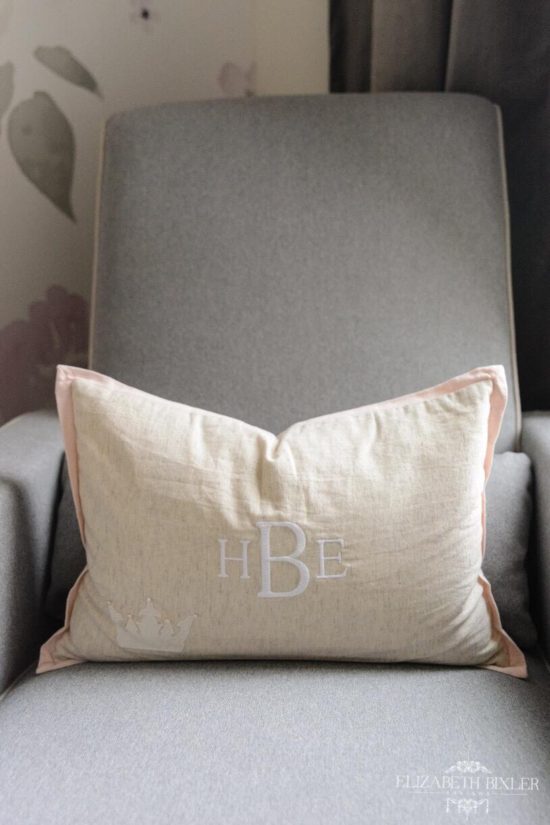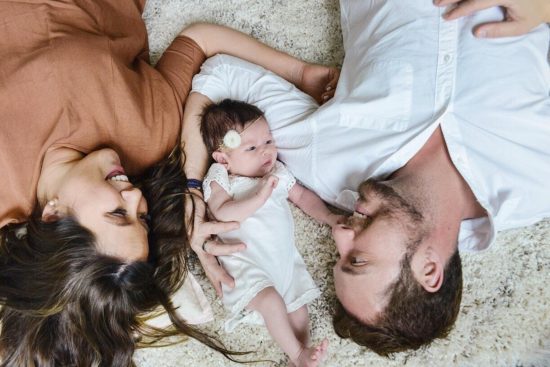 I definitely wanted her room to be the fun room but still go with all the grey in our home. Adding soft neutrals calmed down the stated wallpaper. There were so many ideas, and it was hard to narrow it down but this theme fits her perfectly.
I can not wait to show and explain the process of her closet which looks better than our closet. Her dad built it her size and categorized for her and me. I am now trying to get him to make my closet just as fancy. Stay tuned!
Products used: