This week we had to choose the floor stain which I thought would be my favorite since I already had an idea of what I liked. I wanted to match the porch ceiling wood and the exterior corbels with the wood on our floors. Little did I know pine (the ceiling) stains differently than red oak (floors)  and differently than our cedar corbels. So this was a challenge . We LOVE Restoration Hardware stores floor. The reclaimed salvage wood look is stunning and something we were desperate to recreate.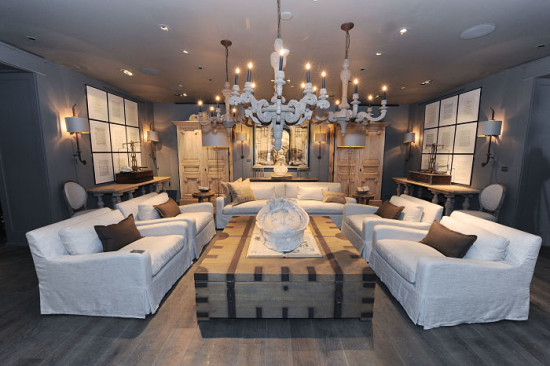 source – Restoration Hardware Store
Gorgeous right?! How was I going to recreate this look without a million different stains and coats? When I worked on our farm table, I layover 6 different stains and white washed to get the salvaged look. I doubt a professional will come out and do that to our floors without a massive budget increase. Our floor guy wanted us to choose preferably one stain incase anything ever happens to the floors. He believes it will be difficult to get the stain to rematch. We also chose Minwax stain for our red oak floors. We set on Minwax Special Walnut and Weathered Oak to give us the look we wanted but that did not work at all!
To see more of my minwax stain samples before and afters click here !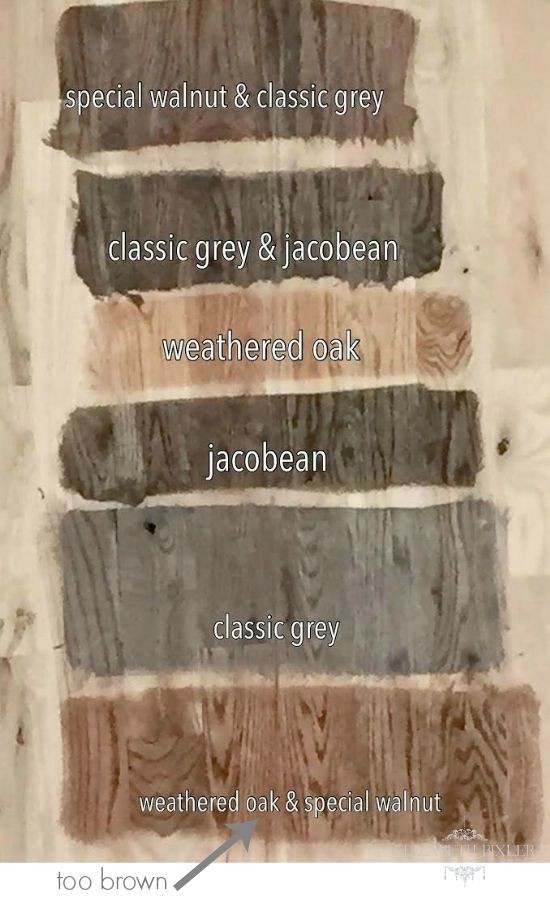 As you can see, I did not listen too well and blended a few colors.
Weathered Oak and Special Walnut (equal parts) had too many brown line and felt a little too red.
Classic Gray was definitely a MAYBE. It had the most potential, but I wanted a little more warmth.
Jacobean had black lines which was not something we were going for.
Weathered oak looks too unfinished.
Classic Gray and Jacobean was beautiful with the grey lines and brown, but still a little too dark (used 50:50).
Special Walnut and Classic Grey(25/75) was beautiful, but still had a little too much red showing.
We also had to decide on our white pine sun-room ceiling , pine ceiling on our front and back porch, cedar front corbels, doors, and beam stains. For this we bought a few scraps of each and tested out colors. For the beams, I love this color: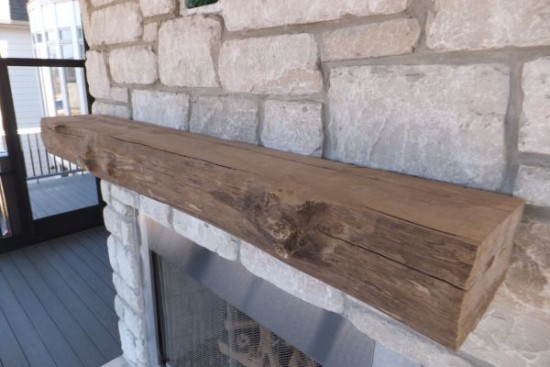 Our beams are made of cedar which has more red than this reclaimed white pine. I tested using Minwax again .
1/2 Weathered Oak to 1/2 Classic Gray
3/4 Classic Gray to 1/4 Jacobean
Jacobean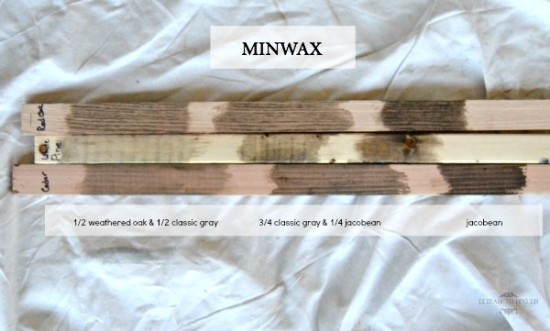 None of these really gave me the look I wanted from the cedar. Jacobean was way too dark. Weathered oak and and Classic Gray did not cover the red in the cedar enough. I needed something to neutralize the red in the cedar.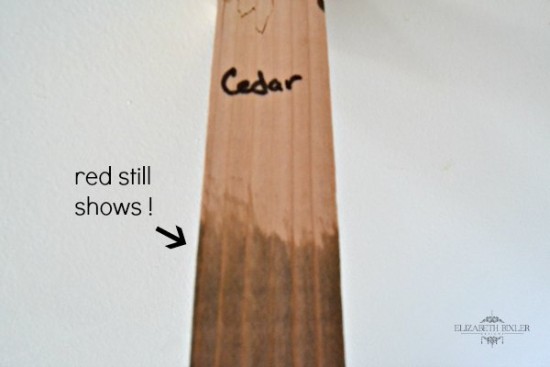 There were a few swirls from the sander so they added alcohol to the Classic Grey we chose. Which do you like better?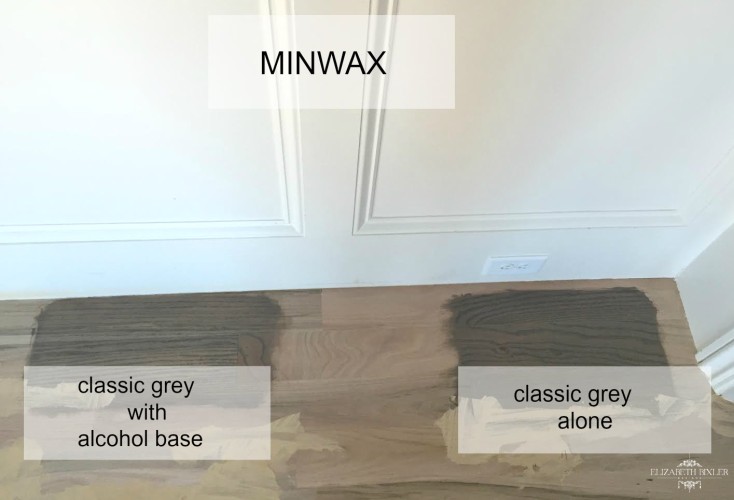 UPDATE ON FLOORS: (Pardon all the sawdust)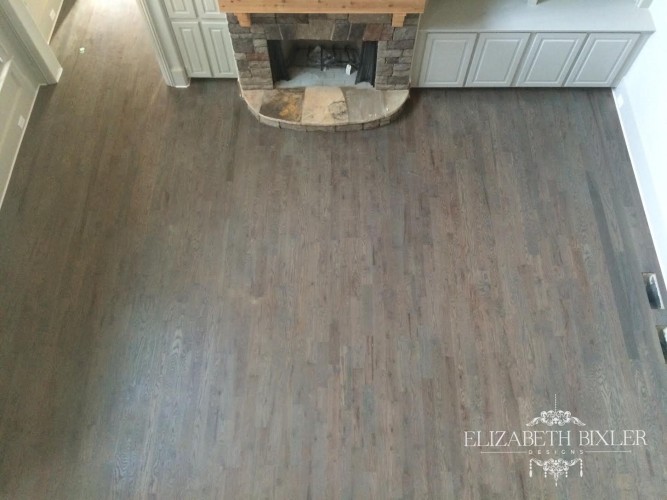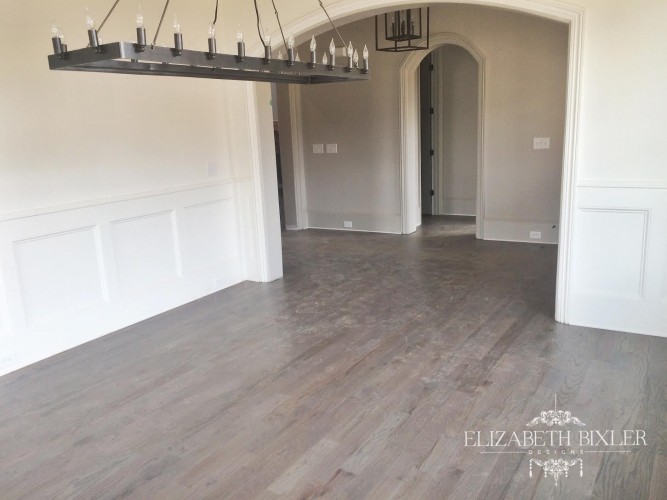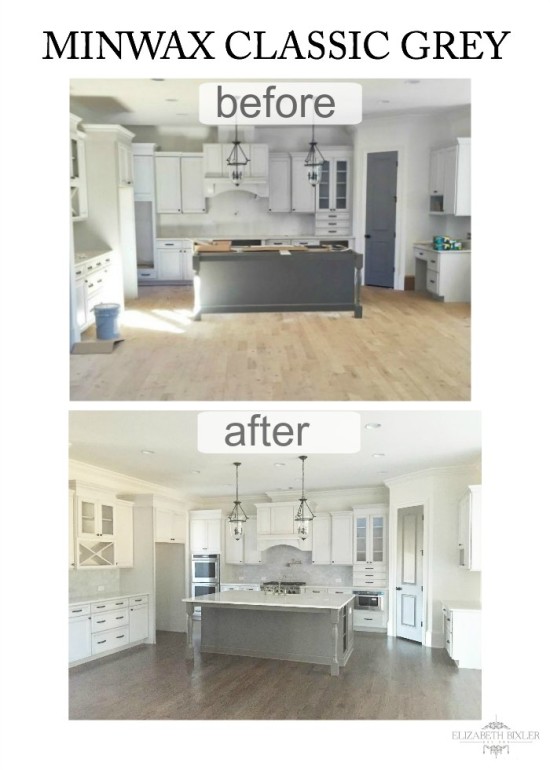 UPDATE #2 on the floors:
After a big move and a lot of "do we need this right now" later, I wanted to give you an update on our floors and wear of this color. For reference, we decided not to add alcohol to Minwax Classic Grey . The alcohol washed out the lines in the wood – which made it more grey-and we wanted more dimensions.
So this is just two coats of Minwax Classic Grey on red oak hardwood floor :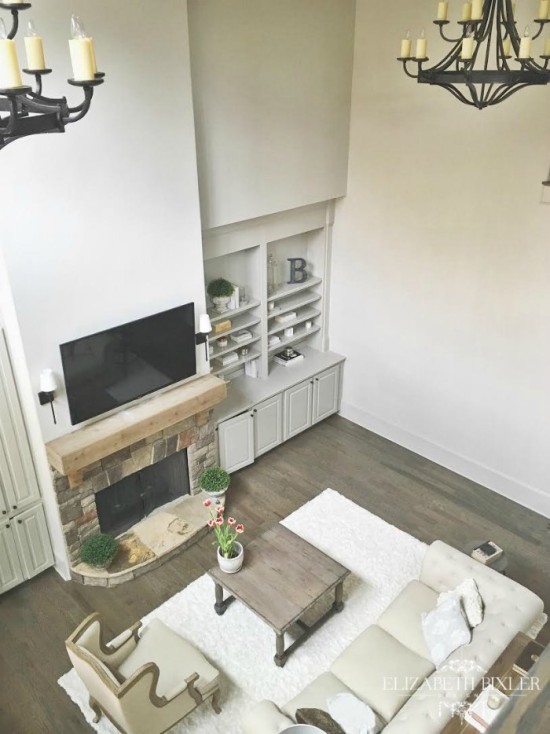 For DIY on coffee table, click here.
To see more of my minwax stain samples before and afters click here !
SaveSave